See the master picture pages by: Jeff | Robert | Rod | Trevor | James

---
First, the pictorial synopsis.
---
Spent a very enjoyable long weekend camping with other paipo enthusiasts in Central California, just below Big Sur and north of Cambria, at San Simeon State Park. The location is great, offers a ton of wave break options and is close enough to re-load on supplies in San Simeon. However, July and August probably aren't advisable due to the crowded and cramped conditions. The State Park was in overload mode... I don't think this is what the rangers signed up for. Many thanks to my personal host, Kim Green, and to our area host, Dr. Robert. Additional extra thanks to our supreme camp chefs, Kim and Trevor. Talk about camp cooking taken to the next level!

---

Kim and I made the trip to Big Sur in a VW Squareback. Hard to believe everything fit since
we had a packed solid VW Bus/Pick-Up 3 years ago. This view has just a few things... and no
camp fire wood!


Photo by Jeff.

One of the better views of our camp site... you can't see any neighbors!!! Only some paipo nuts.


Photo by Jeff.

...compared to the spacious set-up at Plasket Creek of 3 years ago.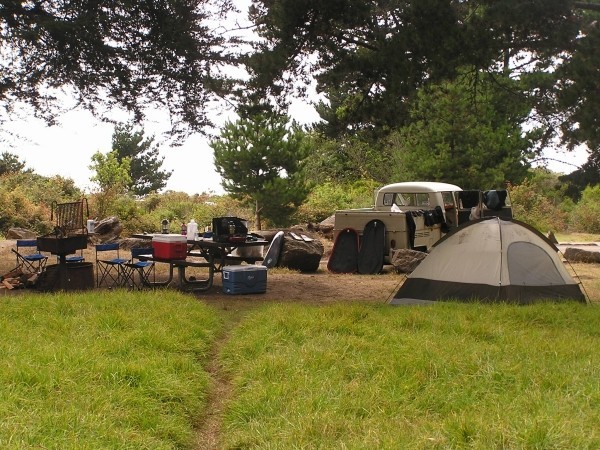 Photo by Rod.

But the kitchen table was full of tools, foods and spices. Kage and Trevor cooked up a storm
for both breakfast and dinner every day. Trevor actually came loaded with cooking tools and
ingredients of every type imaginable. Kage's breakfasts rocked. Superb chefs they were.The
cowboy coffee, well...


Photo by Rod.


---
The Boards

---
One of the big reasons for gathering together is to show, share and talk about our boards. This
collection represents a range of diversity in our favorite kipapa-style riding boards. Pictured
below are plywood boards, fiberglassed foam boards and mixed wood/foam and others. Some
boards are small and some are large, some have handles and most do not, fins and no-fins,
narrow and wide, flat bottom and channeled bottoms and various plan shapes and rails.


Top row: Og-Azn (by Og), Kage (HPD), James (by James), Jeff (Mellor), Og, Og and Og (all by Og).
Middle row: Rod (Austin), James (Thomas Patrick), Dr Robert (Gordon Theisz), Robert (Malcolm Campbell),
Robert (Malcolm Campbell), and Kage (self). The Dr. Robert board on left was Candy Calhoun's board.
Front row: John Mellor (Mr. Mike) and Og. Photo by Trevor.

Some of the boards in the bottoms-up mode.


Photo by Trevor.

John looked over my board closely and asked lots of questions. He knows a ton about designs
and board shaping. Passed the test I think! Here I was pointed out the raised resin work on the
S&S Checkered RPM's deck.


Photo by Jeff.

Jeff Chamberlain's boards take up the entire bed of his truck. Large and wide and the love of
his life. He is innovating with these super large paipos (more volume than many foot riders' long
boards).


Photo by Jeff.

Two of Dr. Robert's regular rides. Both boards were built by Malcolm Campbell with art work by Malcolm's son.
The boards are bonzers that use Froiseth/Theisz-influenced plan shapes and the classic wooden nose handles.
Photos by Trevor.

Trevor rented a car that would accommodate all of his camping, cooking and surfing craft needs!
Pictured below are five of the boards he built and rides. The "eye" is a shark repelling weapon.
The boards are all thin so didn't really take up that much travel space.


Photo by Trevor.

One of Dr. Robert's local paipo riding friends, Ed Walker, stopped down to talk story and show
his board, by Nimbus Surfboards.

Ed Walker is a long time paipo boarder from Creston (east of Atascadero... serious cowboy country). He ventures over to the coast once in a while with his buddy, Mark, another paipo rider. Robert claims they have more fun than anyone else on the Coast.

Ed's son, Zephyr, is the shaper of their boards and owner of Nimbus surfboards. Zephyr just relocated from Oahu and bought a shaping machine which is located in Atascadero.

Photo by Rod.

---
The Search for Surf and the Surfriding

---
Surf check short walk. Will it measure up?

Photo by Jeff.

The consensus was yes.


Photo by Jeff.

Dr. Robert reminding us, "But you REALLY should have been here last week... ."


Photo by Jeff.

Another spot we missed by just one week... Nonetheless, it is beautiful countryside and there
was no nibbling during this trip!


Photo by Rod.

One interesting break was a 2-wave wedge. Waves came from the south and north... you
take off on the wave to the left and ride into the wedging intersection of the two waves
and continue riding left. This photograph doesn't do the wave justice.


Photo by Rod.

Beautiful country for seeking surf. One of the views from the road & shore.


Photo by Trevor.

Suiting up before the walk.


Photo by Trevor.

The trail to the surf. This certainly keeps the crowds down.


Photo by Trevor.

Last minute details before paddling out.


Photo by Trevor.

Dr. Robert sliding along the curl line.

Dr. Robert repeatedly demonstrated his local wave knowledge and skills.
Clean slide, not water displacement.

Photo by Trevor.

An aging lost seal.


Photo by Trevor.

For snippets from the GoPro, by Trevor: Dr. Robert and Rod.


---
An interesting critter over in the bike-in section that John Mellor camped in. He bicycled about
24 miles north to camp at the gathering. He smartly opted for a ride home!






After talking to a local wildlife biologist with F&G (Bob Stafford in Los Osos), it appears I was mistaken on the 'ferret.' I jumped to conclusions when I found Google images of ferrets.



Turns out ferrets are definitely not native to the area but long tailed weasels are. He asked me some specific questions on size, head diameter, etc which I was unable to answer. I'm going with his thoughts that it was most likely a long tailed weasel. If it were a ferret, it would likely have been an illegal domestic pet that escaped or was released. He said those typically don't last long in the wild.
Compliments of John Mellor, our official paipo campsite wildlife spotter

John Mellor's valiant attempt to entice a mother/daughter tourist/cyclist pair from Denmark to join our campsite for "a couple beers" came up short but he did have the weasel sighting! The pair were cycling from Seattle to San Diego if my memory serves me.